Can You Check Your Email?
If So, You Already Have All the Skills You Need to Run Your Own Successful Internet-Based Home Business!
Enter Your Best Email Below For FREE 7 Day Course!
This is NOT Another Envelope-Stuffing,
Supplement-Hawking "Job" - It's REAL Money Being Made by REAL People - Every Day!
People like the single mom of three, who was barely making ends meet – and is now enjoying daily income notifications like these:
Or the a retiree who now has a stable second income (and never in a million years thought he'd be using a computer to create it!)
How did they go from knowing almost nothing about this whole "Internet thing" to making a good living from it?
If you can check your email, you can earn an extra income online with
Secrets of Internet Business!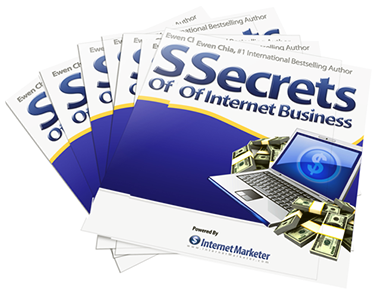 It's Perfect For:
Stay-at-home moms (and dads!) looking for a way to make extra money while looking after the kids.
Students with a busy school schedule who want to earn some cash on the side (entirely online)
Anyone with limited income who is having trouble finding work in the dismal job market
Retirees who don't want to spend their golden years living on meager government checks.
Even if the only experience you have with the internet is using a search engine or checking your email – you can do this. It really is that simple.
I'll Prove It To You...
Type Your First Name and Best Email
Address in the Boxes Below:
Your information will never be sold or shared – ever. Period.
Who Are You And Why Should I Listen To You?
My name is Ewen Chia. Not only have I been successfully selling online for over 15 years (to date, I've made over $20,000,000…but who's counting?)
and during that time, I've shared what I've learned with millions of other people – becoming a best-selling author in the process: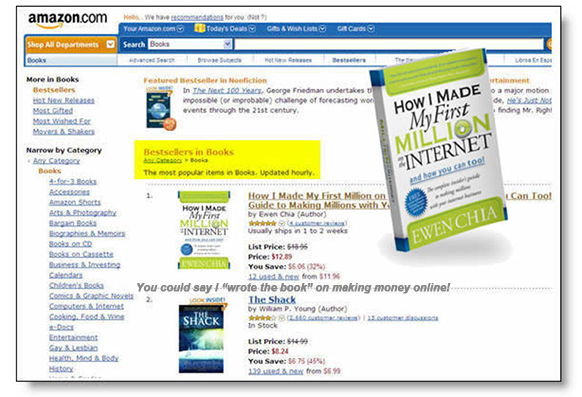 I've hosted sold-out seminars, A-list networking events (check out the photo of me and "The Donald" below!) and so much more.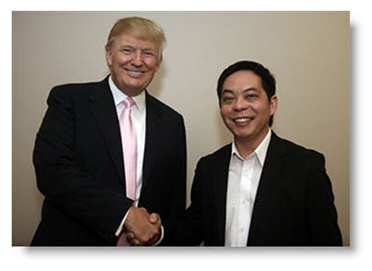 I'm Not Telling You This to Brag...
I'm simply showing you one example of how one guy can go from countless sleepless nights wondering how he was going to pay the bills (and support a wife and two kids), to never having to worry about money again.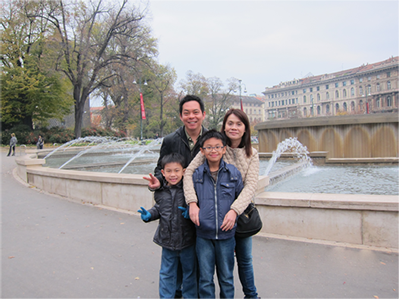 When that happens, it sets about a chain reaction where everything else just falls into place. You start feeling better about yourself. Your self-confidence grows.
Your confidence attracts all the right people. Those people present you with the kind of opportunities most people dream of… (how many people do you know that get to shake hands with Donald Trump!)
And in many cases, the journey to get to that point costs an unheard-of number of hours, working well through the night to the early morning hours…sacrificing everything just to keep climbing.
But it won't be that way for you…
Because I'm Giving You the Keys to Run Your Own Successful Online Business – Right from the Start!
I Want You to Have ALL THIS!
I want you to wake up in the morning rejuvenated and excited because you finally have the freedom to be your own boss.

I want you to buy the things you've always wanted – for yourself, for your family, for your kids… but kept putting off because they were too expensive.

I want you to enjoy the rush of exhilaration that comes with checking your email, and seeing that while you slept, more money poured into your bank account than you'd ever earn as a wage-slave at a 9-to-5.

I want you to bask in the success that comes with knowing that you finally did it – and your efforts paid off in a BIG, rewarding way.

I want you to taste the freedom that comes with being able to nearly "set and forget" your online business, and enjoy living life to the fullest!
If you're ready to finally put the past behind you…
If you're tired of chasing that 'perfect opportunity' that leads to dead-end, after dead-end…
If you're ready to discover how "this whole internet thing" really works and how you can
use it to shove fistfuls of cash into your pocket –
Tell me so, right here:
Yes! I Want the Secrets of Internet Business Now!
Now, before you hesitate thinking this is another one of those "marketing guys" who tries to sell you some bloated package of software and other junk that you have no idea how to use – relax.
There's NO EXPERIENCE needed to run your online business. If you can check your email, you already have all the skills you need.

This is NOT MLM, network marketing, pyramid (or any other shape) marketing. You don't have to recruit your friends and family (but I warn you, once they see how easy it is for you to make money online, they'll be asking you to show them too!)

There's NO product or service to sell – You won't be passing out literature, supplements, vitamin-shakes or any other junk like that. You also won't be stuffing envelopes or putting together crafts.

You won't be cold-calling a list of "prospects" – In fact, you won't be calling anyone.
Instead, I'm going to show you exactly how I continue to make thousands of dollars a day, like turning on a faucet.
Once you see how incredibly easy it is (especially with me helping you!), you'll discover that your new internet business potential is WIDE OPEN.
Grow your new business (and income) as little, or as much as you want! There's no limit to the money you can make with these simple techniques!
Give me just
7 days… that's one week
, to teach you how. Every day for one week you'll receive an email with easy-to-follow steps that walk you through the process, so you can easily squeeze it in, any time of the morning, afternoon or evening.
Earn Extra Money with Your Own Internet Business - Starting Today!
All I need is your best email address.
I'll send you an email right away with all the details. I've refined this method for so long now, that I can teach it to anyone in as little as a week (and remember, that's with only 15 minutes a day of your time!)
Name any other line of work where you can learn everything in such a short amount of time!
To Your Success,